On July 18, the Coalition for the Life Sciences, along with the Federation of American Societies for Experimental Biology (FASEB), hosted the inaugural Life Science Fair and Reception on Capitol Hill.
The Life Science Fair and Reception provided an opportunity for Members of Congress and their staff to get a hands-on understanding of life science research.  Many of the exhibits were interactive, and attendees had the opportunity to experience eye disease through interactive goggles; learn about model organisms with exhibits of zebrafish, fruit flies, and upside down jellyfish; see yeast DNA; learn about sleep trackers; and view a Lego-model of an interactive mouse experiment.
Exhibitors included CLS members,  the American Society for Cell Biology and Society for Neuroscience, along with Carnegie Science, American Association for Cancer Research, American Association of Immunologists, Association for Research in Vision and Ophthalmology, Jackson Laboratories, Johns Hopkins University, Yale University, and the University of California, San Francisco.  Additionally, Genentech, a Roche Company, was a partnering sponsor of this event.
Representatives Neal Dunn (R-FL), Lou Correa (D-CA), and Joe Barton (R-TX) attended and interacted with exhibitors and young investigators.  These Representatives not only had the opportunity to engage in fun, interactive science but they heard how federal funding for the National Institutes of Health improves health for all Americans.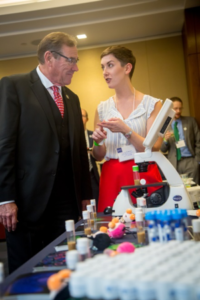 Dr. Neal Dunn, Congressman from Florida, talks with a young investigator from Johns Hopkins University about her research on the life stages of fruit flies.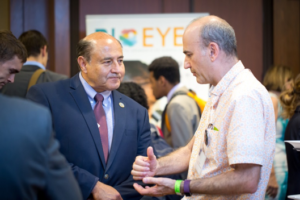 Rep. Lou Correa (D-CA) discusses science policy with an exhibitor from Carnegie Sciences.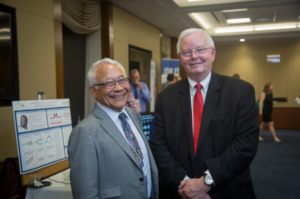 Keith R. Yamamoto, PhD, chair of the CLS meets with Congressman Joe Barton (R-TX).
For more photos of the Life Science Fair, please visit the CLS Facebook page at www.facebook.com/Coalition-for-the-Life-Sciences.