The Coalition for Life Sciences is responding to the COVID-19 pandemic by working with our government, academic, and corporate partners to harness all of our scientific resources to combat the disease and to inform policy makers about our latest understanding of the novel coronavirus.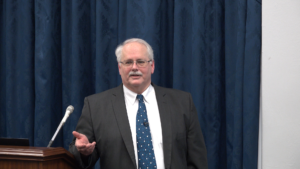 Dr. Ralph Baric, a leading epidemiologist, is working on finding a treatment for this virus. He discusses what we know and what we still don't know about the coronavirus. Every day we hear a new report on the coronavirus. The reports range from the spread of the virus to the current mortality rates of victims of the virus. But what does science know about this virus? And is there hope for a treatment before the virus becomes even more deadly? Watch this timely discussion, presented by the Congressional Biomedical Research Caucus.
News
So you've heard about "flattening the curve" but do you know where we are on the curve? @neillamb explains in this episode of Shareable Science Beyond the Blog.
The humanitarian costs of the coronavirus outbreak continue to mount, with more than 452,000 people infected globally. The number of people confirmed to have died as a result of the virus has now surpassed 20,500.
The number of confirmed cases has almost doubled in the past week, with many imported from overseas, as Hong Kong residents who had left — either to work or study abroad, or to seek safety when the city seemed destined for a major outbreak earlier this year — return, bringing the virus back with them.
From the NIH
To assist with virtual learning during the COVID-19 pandemic, we'd like to remind you of the valuable resources NIGMS supports for our trainee and educator communities. These resources apply to all levels, ranging from community college students to faculty.
As we understand so well, biomedical research improves public health through scientific discovery. The COVID-19 pandemic only reinforces the importance of our work and the work of so many others who are dedicated to protecting and improving public health. I want to assure you that NCI, in partnership with NIH, is taking affirmative steps to support the extramural cancer research enterprise during this challenging time.
Information on researcher projects, grant submissions, conference travel and more.
Research
Addressing Promotion and Training Issues in the COVID-19 Era
The Coalition for the Life Sciences (CLS), representing over 80,000 biologic researchers, urges universities and institutions to adjust faculty advancement policies and extend certain training periods in response to the challenges associated with COVID-19.
The National Science Foundation (NSF) is accepting proposals to conduct non-medical, non-clinical-care research that can be used immediately to explore how to model and understand the spread of COVID-19, to inform and educate about the science of virus transmission and prevention, and to encourage the development of processes and actions to address this global challenge.
A new international project aims to enroll 500 COVID-19 patients to search for genetic mutations that make some people more vulnerable to severe infection.
Brought to you by the American Public Health Association and the National Academy of Medicine, this webinar series will explore the state of the science surrounding the current outbreak of COVID-19 in the United States and globally, with a focus on the emerging evidence on how to best mitigate its impact. Hear from trusted experts in such fields as public health, infectious disease, risk communication, and crisis standards of care.
This Guide Notice addresses general questions associated with proposal submission and award management that may arise in relation to COVID-19. NIH is providing this information as a service to their applicant and recipient communities in the hopes it will address high-level questions that may arise in this regard. Please note that given the fact that COVID-19 and associated impacts continue to evolve, applicants and recipients are strongly encouraged to monitor this website for updates.
In the Classroom
This recorded session of Online with LSE features a discussion with educators who have experience teaching online and working with faculty to transition to online instruction. Panelists include Andrew Bouwma, Cynthia Brame, Jim Hewlett, and Erika Offerdahl.
Take Action
Find where you can donate your masks or other personal protective equipment (PPE) in your local area.
The National Clearinghouse to connect healthcare providers with critical equipment. They are looking for needy recipients, suppliers, and aggregators to help.
The Congress is considering a spending bill that would help individuals and businesses affected by the COVID19 crisis. The bill provides over $940 million for NIH, all funds to remain available until end of federal fiscal year 2024, and all funds to be utilized to prevent, prepare for, and respond to coronavirus, domestically or internationally. Please take this time to write, call, or tweet your elected official urging them to include at least $940 million in funds for the NIH in any final agreement.
Dr. Michael F. Wells, from Harvard University, put together this volunteer form. He is organizing this database as a private citizen to limit the spread and negative impact of the COVID-19 virus in the United States. There are currently over 6,000 registered volunteers.